Regular price
Sale price
$47.00 USD
Unit price
per
Sale
Sold out
GET 10 OF MY BEST INSTRUMENTALS FROM THE EARLY DAYS IN ONE CRAZY DISCOUNTED BUNDLE!

(YOU SAVE 953$ WITH THIS BUNDLE!)

View full details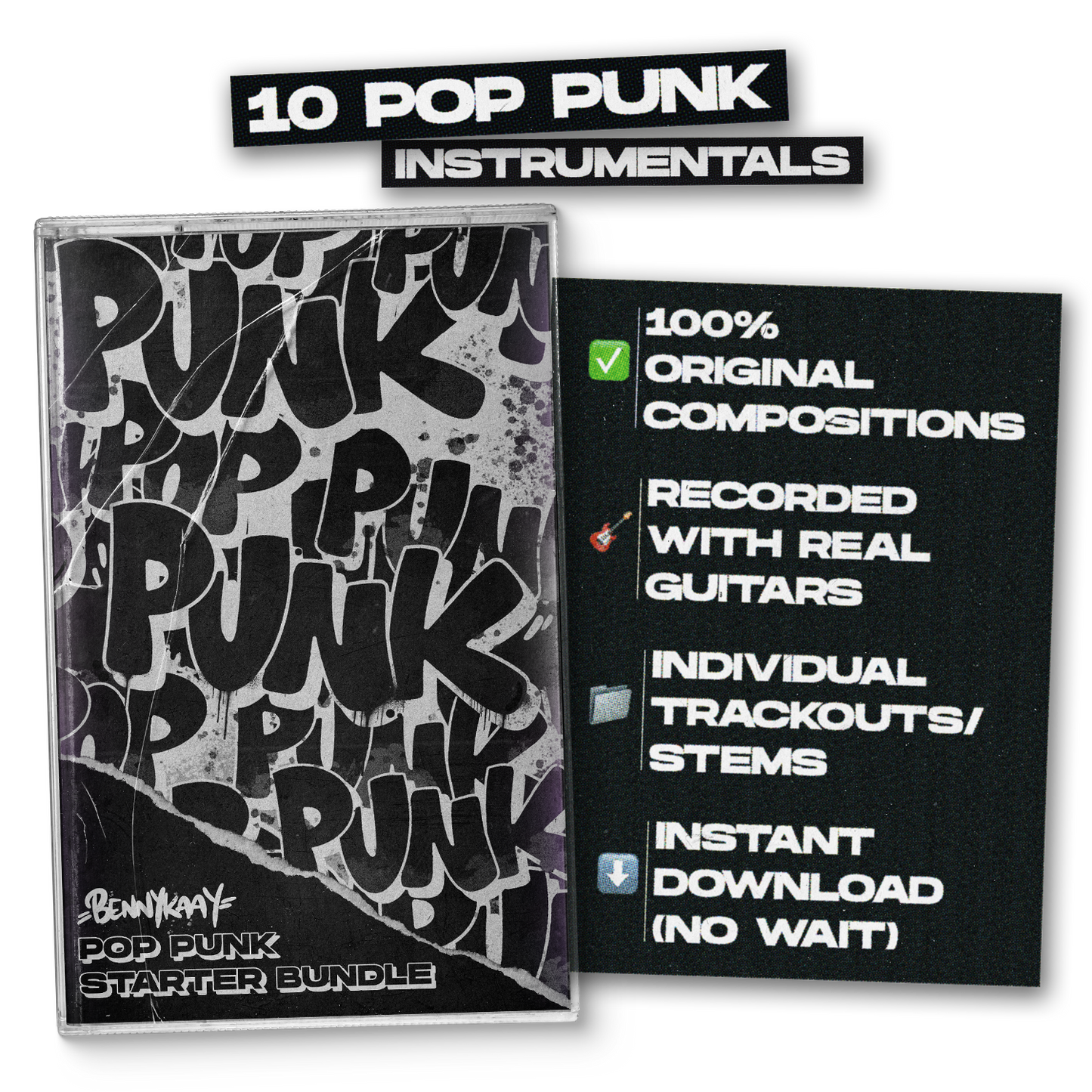 RECORDED WITH REAL GUITARS

NO UNCLEARED SAMPLES, RIFFS OR MELODIES

UPLOAD YOUR MUSIC TO ALL PLATFORMS
LISTEN TO THE INSTRUMENTALS HERE:
WHAT YOU'LL GET:

✅ 10 HIGH QUALITY INSTRUMENTALS
✅ 100% ORIGINAL COMPOSITIONS
✅ KEY & BPM LABELED
✅ INSTANT DIGITAL DOWNLOAD
✅ UNLIMITED USAGE RIGHTS 
✅ KEEP ALL YOUR EARNINGS
✅ FAIR PUBLISHING SPLIT
✅ TRACKOUTS/STEMS

YOU DON'T HAVE TO WORRY ABOUT THIS ANYMORE:

❌ UNCLEARED SAMPLES

❌ FULL E-MAIL INBOX WITH BEATS

❌ LICENSING THRESHOLDS

❌ COMPLICATED PRICING

❌ WEAK MIXES

❌ FINDING HIGH QUALITY POP PUNK
UPLOAD YOUR SONGS TO ALL YOUR FAVORITE PLATFORMS

YOU CAN UPLOAD THE SONGS YOU CREATE WITH THE INSTRUMENTALS & SAMPLE PACKS FROM MY WEBSITE TO ALL MAJOR PLATFORMS & MONETIZE THEM.
FAQ
CAN OTHER PEOPLE ALSO USE THESE INSTRUMENTALS WHEN I BUY THEM?

Yes. With the purchase you'll get a non-exclusive license.
That means other people can also buy this pack and make songs with the same instrumentals.

There's almost 50.000 songs uploaded daily to spotify. It's not likely that you or your fans will ever hear another song made with the same instrumental.
CAN I REGISTER MY SONGS WITH MY PRO FOR PUBLISHING?

Yes. If you're registered with a Performance Rights Organization, you can register the songs you create with my instrumentals to get your publishing share.

Please make sure to read the full "Terms of Use" to set up the right publishing splits.

➡️ Click here for the full "Terms of Use"

WHAT ARE THE FULL TERMS OF USE?

You can read the full "Terms of Use" if you CLICK HERE

Here's a short summary:
● You can use this instrumental to create your next single. ("New Song")

● You can upload your new song to all major streaming platforms (Spotify, Apple
Music, Youtube etc.)

● You don't have to share any revenue you get from your distributor with me. (Distrokid,
CDBaby, Tunecore or whatever you use)

● If you're registered with a Performance Rights Organization (BMI, ASCAP, GEMA..
etc.) you have to share publishing revenue with me. If you're not yet registered with a
P.R.O then you can skip this step.

● You can't register your song with Content-ID services or any automatic audio
fingerprint services for social media. (Youtube Money, Youtube Content-ID..etc.)

● You have to list me as the producer & songwriter in the meta-data of your new song.
(PRODUCED BY BENNYKAAY)

CAN I UPLOAD MY SONGS TO SPOTIFY, APPLE MUSIC & YOUTUBE?

Yes. That's what the instrumentals are for.
With the purchase you'll get a license and with that the permission to create songs with the instrumentals and upload them to all the major platforms.
I want you to have great sounding and creative instrumentals for your next songs.
WHEN DO I GET MY FILES?

Right after the purchase you'll get instant access to your files on the checkout page.

I'll also send you an email with the download links so that you can download your files on your computer or in the studio or wherever you need them at a later point.